Recap: JUST THEN A CAR DROVE UP IN THE DRIVEWAY, AND INSIDE MANY STRANGE CREATURES WERE HOPPING AROUND...
All: Gasp!
???: *Steps out of car* Are you the guys who ordered the pizza?
Sasori: *sigh* Darn, I thought it was something slightly interesting for a second there...
Dot: OH BOYZERS!! THE PIZZAERS!!!!
Frankie:
Good... this must be the right place...
Bloo:
*Leaps out of car*
FRANKIE!!! I HAVE TO GO TO THE BATHROOOOOOOOM!!!
Eduardo:

Si, as do I Frankie!
Frankie: Sigh... hey you guys, can we use yo-
Sasori: No.
Frankie: But-
Sasori: Just give us the pizza and go...
Frankie:
Cry Cry
Teensyweensy: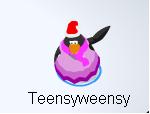 Stupid newb.
Dot: You guys! Be nice to the poor girl! They just need to go to the bathroom!
Sasori: must not kill.... MUST NOT KILL.... well, as much as I want THOSE things in the SECRET CRIMINAL BASE!!!!!
Dot: Come on you guys! You can go to the bathroom inside!
Sasori: But-
Dot: NO BUTTS *Points to but*!!!!!
(Horrible pun)
Foster's Home People: *Go inside*
Cream: Now that that's taken care of, where is that green nightmare of a kid!!
Lee: It is too late youth! I have left!!
Cream: ....
Lee: Oh no!! I am still here!!! GERIAGJREIGJAERKPOBIAERJOI!!!
Cream: *BEATS UP*
Lee: ihgaigiuhtaijgoibjr!!! YOUUUUTTHH!! I BEG OF YOU!!! STOPP!!! rjhskoegbmbmjjn!!
AFTER ABOUT 30 MINUTES OF BRUTAL BEATINGS AND EATING THE PIZZA... *The Foster gang is gone now*
Lee: hufff... hufff... you shall... regret the day... you beat up Rock Lee...
Cream: Hah... yeah right!
Lee: You think you have won foolish youth??? ...oh ho HO!! You have not... for I have hidden... my
secret weapon
.
Cream: Your... secret weapon?
Lee: Hah! So glad you asked youth. Let me tell you what my TOP SECRET PLAN is! As I have told you moments ago... I have hidden my secret weapon. This, my dear youths, is what I like to call Gai X, or... the Gai Bomb.
Sasori and Cream: THE GAI BOMB???
Lee: Yes, and once this baby sets off in exactly 4 days 23 hours and 49 minutes, it will encase the world in a youthful darkness which only I am immune to!! And once all life is weak from exposure to this energy... I, DARK LEE, SHALL TAKE OVER AND TURN YOU ALL INTO YOUTHFUL SLAVES!! HAHAHAHAHAHH!!!!

Cream and Sasori: O_o
Dot: Hee!
Rock Lee:

Cream and Sasori: O_o
Rock Lee: Now, unfortunately our conversation must come to an end dear youths! I am off... and unless you want a world of youth, you should try to stop me. Hahah! I said TRY! Because you shall FAIL!!! Muwahahahah!!! *Dashes off*
Cream and Sasori: O_o
...
Dot: Welp! No time to loligag! Let's GO!!! *Takes the paralyzed Sasori by the hand and skips off*
Sasori: Shouldn't we ... t-t-t-tell Dei-deidara...?
Dot: Okay! Let's GO! *Skips towards the base*
WILL ROCK LEE COMPLETE HIS MASTER PLAN? HOW IS HE GOING TO PULL IT OFF? WHAT THE CRAP??? FIND OUT ON THE NEXT EXCITING EPISODE OF... THE ADVENTURES OF AKATSUKI!!!!!!!!!
Pics from Google