Recap-
Teensy disappears somehow and the rest of the gang run for their dear lives away from Tabby. XP They stop when they come across a broken ship... and they'll soon meet the survivors...
Deidara: *pant* whew... that was close...
Sasori: TOO close...
???: Dude... that hurt, man...
Deidara: !!!
???: *Notices Deidara*... woah! That dude's got funky hair!
Deidara: -.-'
Sasori: Who are you?
Beast Boy:
I'm Beast boy! Yeah!!
Deidara: Why, Teensy, why?
Teensy: Hehehe
Dot: Woaaaaaaaaaaaaah you're green!!
Beast Boy: Yeah... I am... hey you guys! Over here! I found some weird people!!
Raven:

... *walks over* ... woah! That dude's got funky hair!
Deidara: ...
Rest of the teen titans:

*Walk over*
Cyborg: Woah, that dude's got-
Deidara: THAT'S IT!!! KATS-
Sasori: Wait, they might be able to help us. Have you seen a green idiot come this way?
Raven: Yes *points to beast boy*
Beast Boy: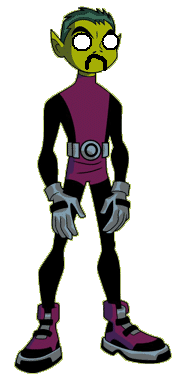 Starfire: Hehe!
Sasori: XP... I'm talking about another green idiot, no fashion sense, and has huge creepy eyes and a horrible haircut...
Robin: Never seen him, and I doubt I'd want to...
Sasori: Nkay... well I guess you can blow em up now Dei
Deidara: Sweetness!! Prepare to be pwned!!!
Teen titans: ZOMG!! AWUIGHAUGHGUERG!!! AAAAAH!!
Deidara: Kat-
MEANWHILE...
Itachi: *SIGH*... for the last time, stop singing!!
Yakko: Fish heads fish heads rolly polly fish heads fish heads fish heads eat em up-
Itachi: STOP SINGING!!!
Yakko: But why, Wrinkle?
Itachi: GRRRRR... if it weren't for Pein ordering me to keep you alive, you'd be pwned like a pancake.
Yakko: ???
Itachi: Yeah...
Yakko: Hey look, Wrinkle! We're headed into a forest!
*They keep walking*
Yakko: ...
Itachi: ...
Yakko: fish hea-
Itachi: SHUT IT
Yakko:



Itachi: XD XD XD
*More walking action*
Itachi: I think we should rest here...
Yakko: Nkay Wrinkee Dinkee
Itachi: ZOMG!!!! DIE!!! *Takes out gun*
Yakko: YAAA!!! I'M SRRY WRINKLERS!!! AERGH REAG WAIGJER
???: I hate to interrupt your fight friends, but I have something to say!
Itachi and Yakko: ???
???: Yes, I have come here like the waves on teh sand! Like the jam on the toast! Like the-
Itachi: Get on with it...
???: Very well then, friends! You may be wondering WHY I have arrived like jam on toast. Well... I have been assigned... to destroy you!!! MUWAHAHAHAH!!
Yakko: !!!
Itachi: !!!
???: Yes! I am more clever than the tiger that stalks its prey! More cunning than the ice on the cake! More mysterious than the shadows of your umbrella!!! More-
Itachi and Yakko: *GONE*
???: !!! Ah, so you think you can outsmart my smartness? Think again, compadres! I shall find you as quick as the bee finds the honey!! Yes!!
To beh continyad.
What'll happen to the titans? Who is "???"? What is Hidan doing right now? Find out on the next exciting episode of THE ADVENTURES OF AKATSUKI!!!